Henry Finger, "81 Years Young," Shingles Roof of His Home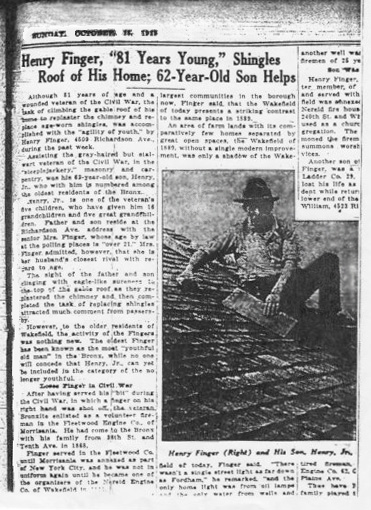 Although 81 years of age and a wounded veteran of the Civil War, the task of climbing the gable roof of his home to replaster the chimney and replace age-worn shingles, was accomplished with the "agility of youth" by Henry Finger, 4509 Richardson Ave. during the past week.

Assisting the gray-haired but stalwart veteran of the Civil War, in the "steeplejockery," masonry and carpentry, was his 62-year-old son, Henry Jr., who with him is numbered among the oldest residents of the Bronx.

Henry Jr., is one of the veteran's five children, who have given him 14 grandchildren and five great grandchildren. Father and son reside at the Richardson address with the senior Mrs. Finger whose age by law at the polling place is "over 21," Mrs. Finger admitted, however, that she is her husband's closest rival with regard to age.

The sight of the father and son dangling with eagle-like sureness at the top of the gable roof, as they replastered the chimny and then completed the task of replacing shingles attracted much comment from passersby.

However, to the older residents of Wakefield, the activity of the Fingers was nothing new. The oldest Finger has been known as the most "youthful old man" in the Bronx, while no one will concede that Henry, Jr., can yet be included in the category of the no longer youthful.
Loses Finger in Civil War
After having served his "bit" during the Civil War, in which a finger on his right hand was shot off, the veteran Bronxite enlisted as a volunteer fireman in the Fleetwood Engine Co. of Morrisania. He had come to the Bronx with his family from 18th St. and Tenth Ave in 1888.

Finger served in the Fleetwood Co. until Morrisania was annexed as part of New York City, and he was not in uniform again until he became one of the organizers of the Nereid Engine Co. of Wakefield.

Finger said that the Wakefield of today presents a striking contrast to the same place in 1889. An area of farm lands with its comparatively few homes separated by great open spaces, the Wakefield of 1889, without a single modern improvement, was only a shadow of the Wakefield of today, Finger said. "There wasn't a single street light as far down as Fordham," he remarked," and the only home light was from oil lamps and the only water from wells."