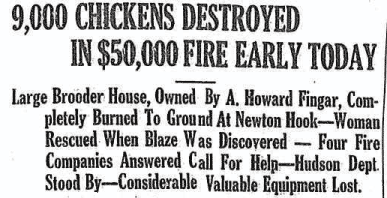 In one of the most sensational fires ever to occur in the northern end of Columbia County, a 520-foot long brooder house in Newton Hook, owned by
A. Howard Fingar
was completely destroyed early this morning. A woman, identified as Mrs. Teator, who lived in the large building as caretaker, was rescued from the flaming structure and suffered no injury.
Included in the loss, which was estimated by Mr. Fingar at approximately $50,000, were 9,000 chickens and considerable valuable equipment. A heating system, which was recently installed but had never been put in use, was included in the loss.

The fire was discovered about 2 o'clock this morning and Fire Chief George Danby of Stuyvesant said that when his department arrived the building was a mass of flames. Mrs. Teator had been awakened when the flames were first discovered and was taken from the building before the firemen arrived. Chief Danby said that the fire had gained such a headway that firemen were unable to enter the building to save any of the equipment or the chickens.
Numerous other buildings, including a dwelling house, several other chicken houses, barn and tool shed, were in danger of being swept by flames and Chief Danby put in a call for assistance from the Columbia County Mutual Aid System. Fire companies from Stockport, Stuyvesant Falls and the Greenport Pumper Co. No. 1 answered the call. The Hudson police station notified Fire Chief Harold J. Clark and arrangements were made for the Hudson department to protect the Greenport Pumper Co. area while the latter was in service. Chief Clark and Greenport Chief Andrew J. Hart went to Newton Hook to lend assistance.
A strong wind that shifted its direction several times put the other buildings on the large farm in constant danger but it was the efforts of the volunteer firemen that prevented any further damage. Streams of water were pumped into the flaming brooder house while pumper engines stood by with booster tanks ready in case the other buildings became ignited from sparks.
Flames shot high into the air and attracted people for miles around. The fire could be seen plainly in this city.
An investigation was underway today to determine the cause of the conflagration. Mr. Fingar said that it is possible that the fire started in the buildings became ignited from sparks, some electrical brooders in operation at the time. The loss was partially covered by insurance.
Fire Chief Clark said today that none of the volunteer firemen engaged in the battle had been injured and Mr. Fingar extended his appreciation to the firemen for their efforts.
Many firemen were still at the scene at daybreak today guarding the other buildings against flying sparks.
-
Hudson Register
July 1, 1943