Captain Henry L. Finger
Commemorative Biographical Record of Ulster Co., N.Y.
published 1896 by J. H. Beers and Co. of Chicago
page 812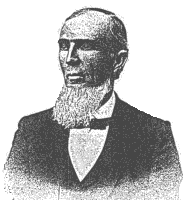 CAPTAIN HENRY L. FINGER, a representative self-made man, and whose name has for a long period been identified with various industries and enterprises in and about Ulster county, is a native of the Empire State, born April 28, 1826, in Dutchess county.
Adam Finger, his father, who was born in 1793, passed the better part of his life in Ulster county, where he carried on farming operations. During his earlier years he lived in Dutchess county, in what is now the town of Red Hook, whence about the year 1826 he moved to Ulster county, and purchased a farm at what is now the northern part of the village of Saugerties, whereon the rest of his days were passed in agricultural pursuits. He was a leading farmer in his section of the county, a Democrat in politics and a prominent member of the Dutch Reformed Church of Saugerties. By his wife Jane, daughter of Conrad Lasher, he had children as follows: John Nelson; Conrad B. Lansing; Henry L.; Bryan; Maria, deceased wife of Rev. Nathan H. Cornell of Philadelphia; Amanda, married to Daniel Hitchcock, now deceased; Robert, now deceased; Sarah B., wife of Virgil Staats, of Dutchess county; Adam, who contracted his death during the Civil war; Gilbert; Jeremiah; Eliza, deceased wife of David B. Castree, of Saugerties; and Daniel. The father of this family died April 11, 1871, aged seventy-seven years, eight months, eleven days, the mother passing away June 10, 1890, aged eighty-five years.
Henry L. Finger, the subject proper of this review, received his education in part in Dutchess county (at Tivoli), and in part in Ulster county (at Saugerties), his advantages in this respect being somewhat limited, however. After leaving school, at the age of thirteen, he went to work in the store of Joseph H. Fields, in Saugerties, with whom he remained five years, at the end of which time he accepted a similar position in Elias Woodruff's store in the same village, which incumbency he held three years. He then, in 1846, embarked in a grocery business at Saugerties, in partnership with Joseph Kerr, who later went to Kansas during the Kansas-Nebraska troubles. In 1847 our subject bought out his partner's interest, and continued the business alone (together with the manufacture of candies), until 1853, during part of which time he had as a partner William J. Snyder, to whom in that year he sold out, at the same time buying a half interest in the hats and caps, boot and shoe business of John W. Davis, on the corner where is now located the Davis clothing and shoe store in Saugerties. During part of the time, about one year, he owned the whole concern, owing to the retirement of Mr. Davis, and had in his employ about fifteen hands, manufacturing boots and shoes extensively. In 1856 Capt. Finger sold out his entire interest in that business to J. W. Davis and Oziah Cooper, and bought the sloop "Livingston," which he ran in the freight business between Saugerties and New York until 1864. In the same year he bought of T. J. Barrett the ferry-boat "Air-Line'" plying between Saugerties and Tivoli, and about the same time, together with J. H. Van Keuren, purchased the foundry on Livingston street, Saugerties, our subject in 1874 taking over Mr. Van Keuren's interest, and along with his son Howard operating the foundry under the firm name of H. L. Finger & Son. In 1868 Capt. Finger became interested in the propeller "Eagle," along with his brother-in-law William J. Snyder, and two years later bought the propeller "Leader ," his personal attention being given chiefly to the propellers, his son Howard attending to the foundry. At this time he was doing all the towing business on the Esopus creek at Saugerties.
In 1872 he engaged in the lumber and coal business, where Finger & Lewis are now, which business has seen various changes in firm styles -- first "Finger Bros." (Henry L., Robert, Bryan and Daniel, at different times), finally in 1884, "Finger & Lewis," Henry L. selling to the Mr. Lewis. In 1884, along with Wellington Porter, our subject purchased the "Ansonia" (in 1886 buying the latter's interest), which he ran on the river until 1888, in that year selling her. In 1888 he, with Robert A. Snyder, purchased the dock property of the estate of William R. Renwick, also the steamer "Saugerties" of the Old Dominion Steamship Co., the stockholders being Henry L. Finger, Robert A. Snyder, Maxwell Bros., and Seamon Bros. In the spring of 1891 they bought the steamer "Ansonia," already mentioned, took her to pieces and built the steamer "Ulster," the company thereby having a couple of fine freight and passenger boats, our subject having been captain of the "Saugerties" up to 1895, and since 1889 he has been general manager of the line.
In all the various enterprises in which Capt. Finger has been more or less identified or interested, he has met with rare success, due in the main to his keen judgment, innate shrewdness, and indomitable perseverance.
In 1849 Capt. Henry L. Finger was married to Miss Ann C. Snyder, daughter of Capt. Henry Snyder and they have had children as follows: Howard (now deceased), Edson (superintendent of the blank book department of the Saugerties Manufacturing Co., at Saugerties), Alice (deceased), George G. (who died young), William L. (captain of the steamer "Saugerties"), Daniel N. (agent for the steamboat line at Saugerties), Henrietta (wife of Benjamin F. Fellows, of Saugerties), and J. Gilbert (purser of the steamer "Saugerties"). In his political preferences our subject was originally a Whig, and has been a Republican since the formation of that party, but has never taken any active part in politics. In an early day he was clerk of the town of Saugerties, and by appointment served as its supervisor. He is a member of the M.E. Church, and for several years one of its trustees; is a director in the First National Bank, and for several years has been affiliated with the F. & A. M., as a member of Ulster Lodge No. 193.
Capt. Finger is yet filling a well-rounded career of business life, during which he has honorably earned the well-merited confidence and respect which he enjoys.