"A resounding success!"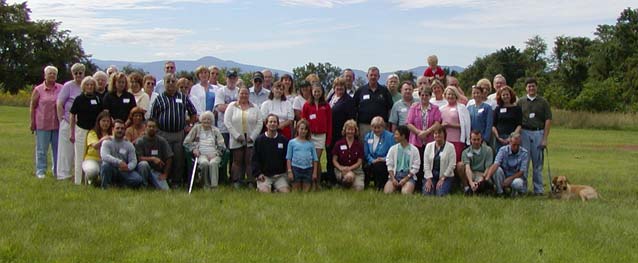 That's what one attendee was heard to say at the recent Fingar / Finger family reunion, held on August 31, 2003, in Livingston Park (Livingston, Columbia County, New York). The weather cooperated fully, as it was a clear and pleasant day.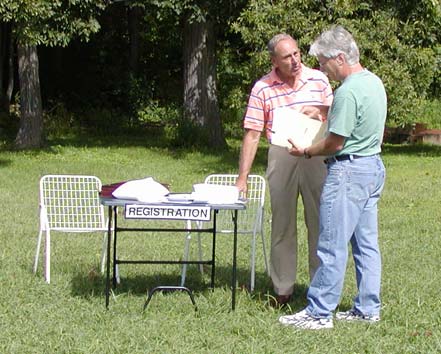 Over 50 persons attended, some from as far away as California. Check-in got underway at 10 a.m. At the left is Lee Fingar talking to Don Teator at the registration table.

At 12:30, Dave Fingar officially welcomed everyone. Dwight Finger then gave a short presentation concerning the Fingar Family website. All were then invited inside for a slide presentation by Mary Howell, the Livingston town historian. This was followed by lunch, time for comparing notes on family histories, and time to make new acquaintances. In addition, everyone got together for the group picture you see above.
My wife Betty was most helpful in keeping me focused. I would like to have visited and shared stories with everyone, but time was limited. She was also able to lend a helping hand by taking pictures of many of the attendees.
We all owe a great big thanks to Dave Fingar for doing most of the "leg work" in getting this all set up, and to Lee Fingar for organizing the invitations, name tags and handling the financial matters.
Many kind comments have been made about the reunion, here are a few:
From Chuck Smith: "I thought that the reunion was great, also, but not long enough. I was just getting to know a few of the previously unknown cousins when it broke up. But my hat is off with much appreciation to you guys who organized the event."

From Elaine Fingar Porter: "All of us want you to know that we certainly appreciate all of the work you put into the reunion. It's not an easy task and we all thought it went quite well and was nicely organized."

From Andie Finger Locke: "I just wanted to let you know how much I enjoyed the reunion. A great big thanks to you and to the others who worked hard to make it happen."

From Cheryl Fingar Morrison: "...Thank you for such a wonderful day! The reunion was the highlight of my entire genealogical venture. It was nice to be able to put faces to names I've seen over and over again and to finally meet people I've chatted with online for years. I hope we can do this again soon."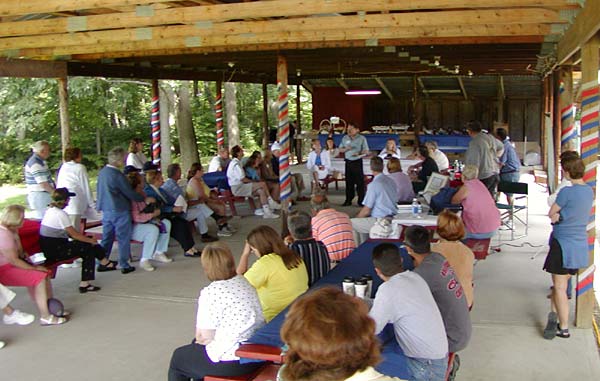 Dwight Finger
explains the Finger Family website to the attendees.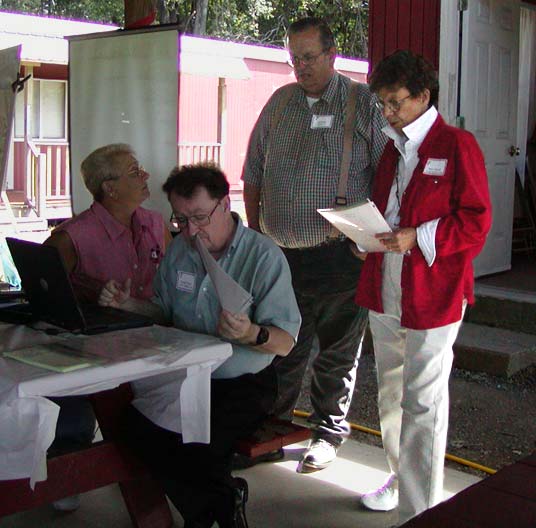 Collecting first-hand information for the website. L to R, Joy Monaco, Dwight Finger, Bill Martin and Mary Howell, Livingston town historian.
A list of those who attended:
| | | |
| --- | --- | --- |
| John and Jane Fingar Branigan | Jim and Carol Branigan Felderman | William Branigan |
| Dave and Linda Fingar | Lee J. and Helen Fingar | Peter and Marty Fingar |
| Mark and Susan Fingar | Brianna Fingar | Gary and Kathleen Fingar |
| Nick Fingar | Cheryl Fingar Morrison | Lisa Fingar Maytag |
| Diane Fingar | Martin Myers, Jr. | Elsie Fingar |
| Janice Fingar | Elaine Fingar Porter | Dennis and Peggy Finger |
| Charles "Chuck" Smith | Dwight and Betty Finger | Andie Finger Locke |
| PJ Mears | Phil and Carol Fingar Maloney | Bill and Beverly Martin |
| Dale and Sybil Martin | Laura Shea | Ruth Lufthouse |
| Donald and Debra Teator | Pamela Finger Wulff | Bill and Audrey Curry |
| Joy Monaco | Debra Fingar Patenaude | Roscoe and Rhonda Fingar |
| Lee V. Fingar, Jr. | Lee V. and Ruth Fingar | Jennifer Porter |
| Jill Porter | Lorinda Fingar Rausch | Heidi Rausch |
| Gregory Fingar | Nina Fingar | Rebecca Fingar |