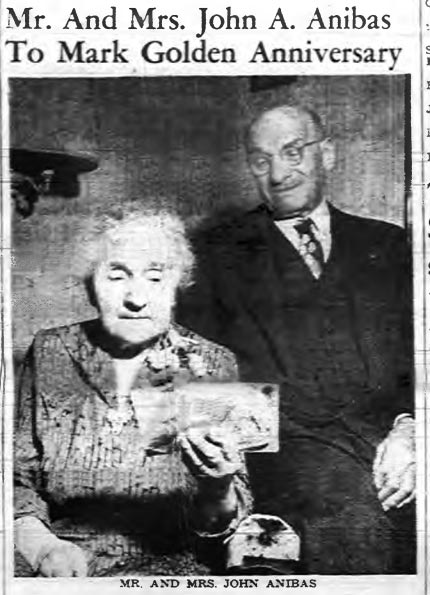 Mr. and Mrs. John A. Anibas
218 South Ninth Street will observe the fiftieth anniversary of their wedding Monday, May 29.
The couple was united in marriage at St. Mary of the Angels Church, May 29, 1900. She was formerly
Johanna Wysock [Schoenberger]
, Salamanca [Cattaraugus County, New York].
The couple have spent their entire married life in Olean and have lived at their present address for approximately forty-two years.
Mr. Anibas is a retired employee of the Union Tank Car Company. He retired in 1939 after thirty one years of service.
The couple has two daughters,
Mrs. Edward P. Finger
and
Mrs. Francis J. Sullivan
, both of Olean, one son
Max Schoenberger
of Olean and two grandchildren,
Barbara Ann Finger
and
Edward Paul Finger, Jr.
A daughter,
Mrs. Barbara Hennig
died in 1937.
Mr. and Mrs. Anibas have received many cards and congratulatory messages in observance of their anniversary. -
Olean Times Herald
May 27, 1950