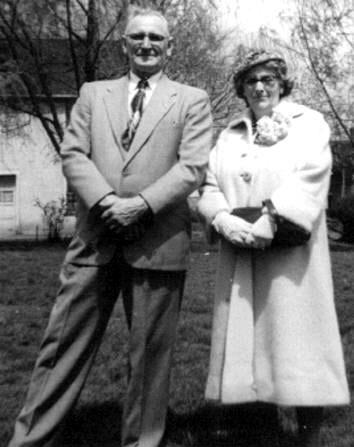 While working in the Pennsylvania oilfields with his father's oil drilling business,
Victor Nenno
, age 23, met
Emelia Finger
, age 20. As a result of the relationship between Victor and Emelia Finger, George was born on November 28, 1892. It is said that Victor and Emelia had married, but when revealed, the marriage was quickly annulled by Emelia's father
August Finger
.
Victor soon after returned to his home in New York state unaware of the fact that Emelia was pregnant. Victor later learned from one of his friends that Emelia had borne his son.
Victor returned to McDonald, Pa. and visited August Finger at his home. August told Victor that Emelia had delivered a child but it was stillborn. Victor returned home to New York unaware that Emelia had delivered George in good health. So that Victor would not find out otherwise, August had George live with another family in one of the surrounding farm communities for several years and did not file a birth certificate.
August took George as his own son giving him his last name. George did not appear on the 1900 census under August's household.
On the 1910 census, George appeared under August's household as his son and now being 17 years old. - from 'The Story of George Finger' as related by his son Robert Fingers...
more
(off site)
Found him on the 1910 Robinson, Washington, Pennsylvania census (dist 226 img 12) age 17, laborer glass house.
WWI Draft Registration
Found him on the 1920 Steubenville Ward 3, Jefferson, Ohio census (dist 222 img 15) as
George Finger
age 25, electrician, steel mill.
Found him on the 1930 Steubenville, Jefferson, Ohio census (dist 31 img 23) as
George Fingers
age 35, electrician, power plant.
His
WWII Draft Registration
shows his birth as Nov 28, 1884. Perhaps this is a typo, since he lists his age as 47. The typewritten name on the card is
George E. Fingers
, but he signed it
George E. Finger
.