Finger Family Genealogical Database
Last Update 04/25/2020
Tap or Use PageUp PageDown Keys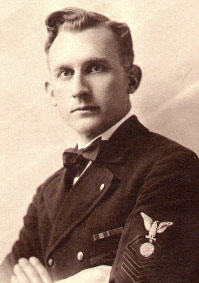 Name


William Albert Proper #896

Suffix

Sex


M

Family Line

Born


Dec 1889

Place


New York

Source

Spouse

Date


6 Nov 1919

Place


Poughkeepsie, , New York

Source

A quiet wedding was solemnized on Sunday afternoon at half past four o'clock at the parsonage of the Hedding M. E. Church, when Miss Mary L. Fingar, of this city, was married to William A. Proper of Brooklyn, in service with the U.S. Navy. The Rev. George M. Chesebro officiated.

Miss Myrtle Moore, of New York City attended the bride, and the best man was the bride's brother, Hugh Fingar of Poughkeepsie. Mr. and Mrs. Proper will live In Brooklyn, where the groom is doing shore duty. - Poughkeepsie Eagle-News November 17, 1919

About a year before his wife's death she had her appendix removed and developed peritonitis. She later got married to Will Proper a local boy who was in the Navy and died less than two weeks later. Will was broken hearted and was said to have left everything as Mary had it. - Larry Boddy

Found him on the 1900 Germantown, Columbia, New York census (dist 13 img 21) age 11.

Found him on the 1920 Brooklyn, Kings, New York census (dist 601 img 32) age 32, widower, electrician, U.S. Navy. He is a lodger in the household of Christian and Horense Smith.



                                                                    |
                                                                    |
                                  || 
                                  |                                 |
                                  |                                 | 
                                  |                              
| Adam Proper 1835                |
|                                 |
|                                 |                                 |   
|                                 |                                 |           
|                                 ||
|                                                                   | 
|                                                                   | 
|                                                              
|
|- William Albert Proper   
|
|  
|                                                                   | 
|                                                                   |                        
|                                 | George Miller  1836             |   
|                                 |                                 | 
|                                 |                                 | 
|                                 |                                                  
| Mary Miller 1859                |
                                  |
                                  |                                 | 
                                  |                                 |                        
                                  ||
                                                                    |
                                                                    |
                                                                    |