November 16, 2013
An interesting message came from Mojaki Finger. This is the first time we have heard from a Finger in South Africa.
Good Morning,

I am Finger and I am a black South African citizen. My father was Tlale George Finger. I just want to know if it could be possible that one of you was down here in Africa... We are today a mixture of coloured and some brown skinned and light skin. Others use Vinger, others Finger... The family has its origin in Bloemfontein in South Africa. It's a city where most white Dutch people stayed...

PEACE
FINGER MOJAKI
---
August 10, 2013
This week we heard from Paula Johnson Ruehling, who sent us this message:
Thank you so much for this information. I wanted you to know that the Finger, Kistler and Johnson families were very close in Spartanburg County, SC. Kistler is a common middle name in the family which my father explained to me was a family name. My g-g-grandfather Capt JB Johnson married Candace A Finger and they are buried at Gramling United Methodist Church, our family church. I have a court record of where they purchased the land for Pacolet Mills and started Pacolet Manufacturing Company that I would be glad to share if you don't have it.

I was hoping you might know more about when these families became so close. I am having some problems researching the Johnson line since it is such a common name. Kistler and Finger being more distinct, I was hoping for a clue from the connection.
With this information we were able to add Candice Finger's husband and children to the database. I told her that what she finds on the website is all we know about her ancestors. It looks like the connection to the
Kistler
line began when Candace's parents married.
Nancy Ann Kistler
married
Joseph Ellis Finger
in 1828.
---
June 2, 2013
We have found and added another Finger family line to the database.
Peter Finger
(b.1868 Germany) married
Balbina Stortz
(b.1874 Germany) who was previously married to
Louis Weidenbacher
. She had 3 children, Joseph (b.1897), Frank (b.1899), and Mary (b.1900) who show up as step children of Peter after 1910. Peter and Balbina also had 4 children together: Peter (b.1905), Edward (b.1909), Helen (b.1913), and Mildred (b.1915).
---
May 17, 2013
Dennis Finger
sent us this image of himself, his son, his father and his grandfather, titled "Finger Boys."
(click for larger image)

---
April 21, 2013
This interesting message came this week.
I am watch repair guy in Chicago and came across an old pocket watch from 1883, with the name J.A. Finger and the date: Oct. 11, '83, which is when the watch was made, so it must be a matched case and movement. My quandary, do you know who this might have been and the history behind it?? Always love to find a story and history to these watches. Thanks much! Regards - Ken Anderson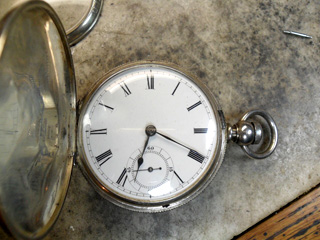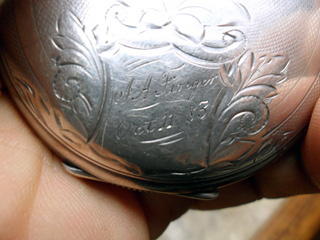 After doing some research, I have been unable to determine who J.A. Finger is. Ken also mentions the watch came from Alabama. If anyone can identify the owner of the watch, let me know. If not, well, it's an interesting bit of history.
---
January 1, 2013
We start the year off with 2,949
Finger
names and 305
Fingar
for a total of 3,254 in our database and on this website.
Also, an interesting article on some of the
variations of the name
we have found.
---