December 25, 2019
It's just about time to wrap up the year, but this time we have some major good news.
I have been able to add about 350 names to the site since converting to the database method.
We have added another family line, Charles Finger, b. 1844, who came from Prussia to Ohio. Some relatives went to Michigan, and some to southern California.
We now have a page that shows recent updates and additions to check for new information.
We are able to post additional pictures in the notes section, such as this Anniversary Announcement
I've been able to add documentation, such as Death Certificates, Marriage Records, Draft Registration Cards, etc. See a sample
There are many transcribed obituaries. We are beginning to find these for recent years. From these we are able to add many Finger family members.
Source information is lacking in many places, this will be updated as time allows.
NOTE: Many friends and relatives have sent pictures of family members. Some were posted, some not. Some I still have, some are lost. If you have any pictures we can post, send them by email, or use the comment page (above). Also, I now am able to give proper credit for pictures.
On the search page it is possible to go directly to any person if the Person ID (PID) number is known. A person will always have the same number.
As always, for security purposes, no birth data is shown for persons presumed living or born less than 100 years ago.
We always appreciate updates and corrections to our data.
---
October 11, 2019
We continue to update and format records in our database program. I have been able to upload many death certificates, and some marriage, WWI, and WWII draft registration records, and census images. I have more on file, and will continue to add as time permits.

(Being in California, we were caught in that power shutoff by our electric utility PG&E. Power and Internet were out for almost 3 days!)

Some site visitors have helped with updated informaton. With the new database system, I can make changes to the site in real time.
Lois Johnson sent us a correction to the wife of Aaron Finger His wife was Sarah Dimmick, not Clarissa, her sister
Lynn McGrann sent additional information on her ancestors, Lydia Finger and her husband "TJ" Gardner
I was able to contact Ron Dorosky, husband of the late Beverly Jean Fingar. With the information he gave me, it seems possible that William Babbit Fingar and Warner B. Fingar may be the same person.
We always appreciate updates and corrections to our data.
---
August 2, 2019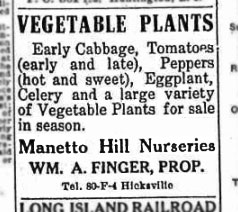 Slow but steady is the word. The new pages are being formatted daily. Many typos had snuck in and these are being fixed.

In addition, I have already found another Finger family line and added it to the site. William Finger came to the U.S. from Germany in 1880, first to Vermont, then to Long Island, New York.
---
July 22, 2019
ANNOUNCEMENT
The time has come to make a major change. For weeks I have been working on changing the data portion of the site to a database-driven system rather than the previous Gedcom system. This change makes it much, much easier to add persons, pictures, and documentation to the website.

However, during the transition there will be problems. Missing or incomplete information in some places, broken links, and formatting issues. Please bear with us we make this change. I'll be working continually to find and fix these, but any comments or observations are welcome.

Until the change is complete, both the old and the new data pages will be available. Here is the place to start.

If you notice that some records show the Last Update as 11/30/-0001. This is a system default number and will be replaced with a correct date as updates are made.

(For those wanting to know, the new pages use a MySQL database, with custom written pages in php)

---
March 19, 2019
This message came in from Karin in Greenville, South Carolina:
Hello,
My name is Karin, I live in Greenville, SC and love to stroll about antique stores. Yesterday I found a wonderful old wooden trunk with the letters Heinrich Finger aus Bottendorf 1852.

As a lot of Finger family members are connected to this site, maybe somebody here might be interested in that unique family piece.

Best Regards,
Karin



So let us know if you're interested and we'll help you get in touch with Karin.
---
January 14, 2019
Well, the year 2018 slipped by, I wasn't able to give much attention to this website. There is some work to be done, but I'm still in the middle of preparing our house for sale, and getting moved to our new location, which is 30 miles away.

There has been some discussion about the children of Johannes (b. 1700) and I plan to make some adjustments in that as soon as I can find the time.