December 26, 2009
The database has been updated today. Among the additions is a new family line,
Wilhelm Finger
, born 1818 in Germany and who arrived in the U.S. in 1852, along with his wife and son. We can't find Wilhelm or his wife anywhere, but his son Ferdinand marries in 1863 and is found first in 1870 in Illinois. He has 11 children. He later moves to Kansas.
This came from Susan Wilson, we were able to update some of the information:
I'd like to thank you for information I found on your Finger Family Web Site. I've been searching for a Meredith Hill off and on for years and found him listed on your site as living with his daughter Laura E Finger. His actual name was Thomas Meredith Hill and his wife's name was Sarah Elvina Hunter. I have additional information if you are interested. We are descendants of Meredith's daughter Margaret Jane Hill. Her daughter Elizabeth Brown Wilson left a handwritten note with dates and places that I have been trying to verify. The 1850 census has the family living in Clarion, PA with MJ aged 5 and LE an infant along with what I think is a nephew last name Blondell. I am grateful to have found the information that led me to another site with Meredith's death date and burial place. Thanks again. Susan Wilson
And this is from JoAnne Relyea
I just came across your wonderful site. My name is JoAnne Marie Finger Relyea, I am the daughter of Mitchell O. Finger - 4th son of my Grandparents the late John Finger Sr. & Louise Finger of Dresden, NY. I am really looking forward to spending more time on your site. Please let me know if I can be of some help with my portion of the Finger Family information.

I have forwarded this on to my Father, Mitch and hopefully he is going to send it to his brother Terry Finger. Terry has all of the Finger family information and history on our portion of the family lines as well as truck full of old photos. My Grandfather John Howard also had another Brother- Melvin Finger, and a Sister- Kathrine "Kippy" Finger Jensen. Kippy is still living in P[enn] Y[an], NY. If I can get Terry in touch with you at some point, he will have birth and death information I believe. Thanks for all of your information on the family!

~JoAnne Finger Relyea
After receiving her message I was able to clear up an error on the site, where I had
John Howard Finger
listed twice, once with his parents and once with his wife and children. Thanks JoAnne!
As the year draws to a close, our database now contains 282 Fingar relatives and 2,621 Fingers for a total of 2,903. The total person count is 10,201. Thanks again to all who have contributed.
---
November 8, 2009
This message came to us recently:
My name is Charles Joseph Finger Leflar, I am named after my maternal grandfather, Charles Joseph Frederick Finger and my mother was Helen Grace Finger Leflar.

I just found your family site and am delighted to see it. You have mention of my grandfather already when you link to the University of Arkansas Charles J. Finger Papers in their Special Collections department. My Finger was a noteworthy author in the first half of the 20th Century and won the Newberry Award in (I believe) 1924. This book was a collection of folk stories which he heard from Indians when he lived in Patagonia during his youth, and I found it particularly interesting that we have a family branch in Argentina which shares his middle name.

Mr. Finger had five children and we have kept in loose touch with most of his descendants. I have one brother and three children and my brother Robert has one daughter. He and I are both professors at the University of Arkansas in Fayetteville, which boasts a Finger Park and Finger Road, both named after our grandfather. My son Philip has Finger as one of his middle names.

As an aside, during the second world war there was a Liberty Ship named the Charles J. Finger after my grandfather. Over the years I have been slowly working up a history of its service in the war and as a tramp steamer in Asia after the war.
---
October 9, 2009
It's been a number of years since we have heard from Carols Finger in Argentina, but this came in today:
My name is Charles Maria FINGER and I live in Argentina. This is not the first time I send data. I want to inform you that on 30 November 2007, my first grandchild was born in New York City. He is the son of Charles Frederick FINGER and Mary Dolores CALERO, both of Argentina.
Cordialmente [sincerely]
Carlos
Thanks Carlos, we all appreciate knowing about our world-wide family.
---
October 6, 2009
The database was updated today. This update includes a new line, John Finger born 1790 in Germany who settled in Pennsylvania before 1850.
---
September 18, 2009
Another descendant in the Johannes Vinger has been tested. Twenty five markers are an exact match, so this is strong evidence that the line from Johannes to the present day is accurate. See the chart on the DNA results page. The two test subjects, Dwight Finger and Kenneth Finger are 5th cousins once removed.


---
August 2, 2009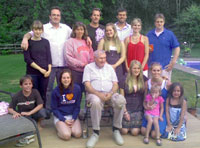 The family gathered recently as Peter Fingar celebrated his 80th birthday! Thanks to Dave Fingar for sending us this picture.
---
July 10, 2009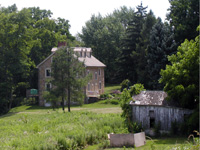 John Vanko kindly sent us a picture he recently took of the house that Peter Finger, ancestor of the Southern Finger family line once lived in. This house is dated 1774 according to Wade Finger's essay, where Wade quotes James Avery Finger's conversation with the owners in 1983.
---
June 3, 2009
In doing some research I found that
William Penn Finger
was the assessor for Pratt County, Kansas in 1885. Here are some
notes
he made concerning the conditions of the area at that time, as he took the 1885 census.
---
April 21, 2009
The database was updated today. With this update we add another Jewish line, that of
David Finger
who was born in Austria in 1875 and who came to the U.S. in 1895. In 1897 his brother
Max Finger
came and was living with him in 1900. Max continued to live in Massachusetts, David and his family were in Manhattan in 1910 and 1920.
---
April 18, 2009
The database was updated today. This update includes a new line,
William John Henry Finger
who was born in Germany in 1883 and who came to the U.S. in 1905. We found his name on a ship's passenger list with quite a bit of interesting information. He married
Eva Niesen
in 1909 and had 2 children. On his WWII draft registration (1941) he says he's self-employed in Roseville, California at "Finger's Paint & Hardware". This is interesting since Roseville is the next town over from my location in a Sacramento suburb.
I also was able to separate 2 Henry Fingers (both born 1830). I had thought they were the same person, but found they were not. The
Henry Finger
who married
Nancy Crawford
and then
Sarah Tallent
was the son of
John Finger
and
Christina Sliger
. However, the 'other'
Henry
, was the son of Jonas and Delila, and was living with his brothers and sisters in 1860, 1870 and 1880.
---
April 5, 2009
The database was updated today, and includes another family line. We found the family of
Albin Finger
who was born in 1874 in Germany and came to the U.S. in 1892.
We were able to make some corrections and add some things to the line of
Francis M. Finger
(b. 1814) thanks to Fran Ryan, the step daughter of
Flossie Finger
.
We always enjoy seeing pictures of our relatives, and now we have four more:
·
Henrich Finger
(b.1830)
· His son
Henry Finger
(b 1858)
· His son
Adam Edward Finger
(b. 1870) with his wife Katherine Auer
· Adam's daughter
Katherine Finger
(b. 1896) and her husband Samuel Gant.
At the present time our database contains 2,213 Finger relatives and 274 Fingars, for a total of 2,487. Thanks to all who have contributed.
---
March 21, 2009
The database was updated today, this time to include 2 more family lines. One is that of
Henry Finger
(b.1817) who came to Marissa, Illinois by 1851. His son,
Henry J. Finger
founded a funeral home in 1891 that is still in operation today.
Also added the line of
Johann Finger
(b.1869) who came from Germany to Ohio in 1887. There isn't too much information about this line other than to mention the descendants live in the Cleveland, Ohio area.
And I found more of the brothers and sisters of
Joseph Finger
(b.1887), the architect who lived in Houston, Texas, and some of their descendants. This was a Jewish Finger family.
---
January 18, 2009
The database was updated today, this time to include a new family line I discovered while doing research. We now have the line of 2 men who appear to be brothers,
Louis (Ludwig) and Gustave Finger
, who came to the U.S. in 1881. They and their descendants appear on the 1900 (and later) Saginaw, Michigan censuses.
---
January 10, 2009
The database was updated today, including some added information from
Jeff Fingar
on his line.
Also I found an interesting story concerning an adopted son.
John H. Reese
came to the U.S. in 1858 and was soon adopted by a Finger family in Illinois. He later married and had 7 children, all of whom continued the Finger name. Here is the
account of his life
.
And thanks to
Richard Blakesley
we have a
picture
of
John Blakesley
(b.1854) and his wife
Mary Eva Finger
(b 1856, New York).
---
January 6, 2009
Our first message of the year comes from
Mark Ungemach
:
I noticed Catharina Elisabeth Ungemach in your family tree. My great-great-grandfather, Seibert Ungemach, was born circa 1813, and came over circa 1837 with what appears to be a brother (L. Ungemach). While they were older than Catherina, and arrived in the States much earlier, I thought I should share this record of transport (my great great grandfather's record is identical):

New York, 1820-1850 Passenger and Immigration Lists



Name: L. Ungemach
Arrival Date: Sep 2, 1837
Age: 24
Gender: M
Port of Arrival: New York

Port of Departure: Hamburg, Germany
Place of Origin: Hessen
Occupation: Miller
Destination: United States of America

Ship: Brig Grand Turk
Microfilm Serial Number: M237
Microfilm Roll Number: 35
List Number: 764
Catharina Ungemach was married to
Johann Henrich Finger
.
---
January 1, 2009
The FingerFamily NewsPage is now entering its 11th year and with the new year we are looking forward to continuing our growth. John Vanko volunteered and is now the administrator of the Finger Family DNA Project. In the first year of testing we have had 4 participants and so far have proven no relationship between my own Finger line, descendant from Johannes Vinger a 1710 Palatine; Peter Finger, the ancestor of the "Southern" family line; and Samuel Finger, born in Bottendorf, Germany in 1568.


In addition, on the website I have continued to add genealogical data for other family lines. On the Known Finger Family Lines page are listed some of the families we have become aware of, and now we can find some information about the members of those families. On the site there is information on 24 different Finger clans. The master database now contains 8,240 persons, of which 2,299 are Finger or Fingar.


Just as a reminder to all who contribute, as is stated on the Privacy Policy page, we won't post any birth information for living persons born less than 100 years ago.


In looking over the stats for the Finger Family site, we see that during 2008 we got 147,562 hits. A more meaningful measure, however, is unique visitors. Using that measure, the site got 17,381 unique visitors during the year. There were 24,644 total visits and 91,613 pageviews (these are real people, this does not include any search engine robots). Of interest is that hits are coming from all over the world. The top 10, In order from most to least, our visitors came from: United States, France, Australia, Spain, South Korea, Germany, Canada, Russia, Great Britain, and Netherlands.


For those who like more statistics, 75% of the visitors to the site were using MS Internet Explorer and 10% were using Firefox. The remainder were either unknown or using Mozilla, Netscape, Safari, or Opera. We are well indexed with Google, and our site comes up first on Search Engine Results Pages (SERP) quite often. Google's 'robot' or indexing engine last visited the site on Dec 31 and registered 42,481 hits, which shows how thoroughly it is indexing our pages. We are also in the indexes of Yahoo, Voila, MSN, Ask, and Alexa.


On the technical side, we changed hosting companies last year and the service has been perfect. Not only is the cost lower, but we have an almost unlimited amount of disc storage space and bandwidth available. Currently our site uses about 33 Megs of disc space, and 600 Megs of bandwidth a month.


---