December 12, 2004
The database has been updated today, mostly to include additional information on the Railsback line sent to us by
Anita Watts
, a descendant of
David Railsback
. The Railsback family relates to the Finger family through David's sister Lydia, whose granddaughter Lydia Austin married Ellis Finger.
---
November 14, 2004
In doing some research, I have come across some Fingar entries that I cannot identify and have added them to the
Unknown Relation
page.
---
November 7, 2004
The database has been updated toady, which will include some additional information sent to us by
Laura Brenneman
, granddaughter of
Almeron Francis Finger
. Possibly the "newest" addition to the site is her daughter
Jenna
, born earlier this year.
---
October 9, 2004
Today this message came from
Vera Finger
in Germany:
Hello! My name is Vera Finger, I'm twenty years old and I was searching for a domain in the internet with my name as the address. By accident I found your homepage, because there's a wedding-picture with a Vera Finger on it. I really had to laugh because the world is so small! I got the name Finger from my father who was born in Lüneburg (near Hamburg). His father (my grandad) actually came from Berlin. He became 80 years old and died in 1993. His family were old "Berliner", his father was a kind of "Schneider" (cut the clothes, made trousers) and worked at the court of the old German "Kaiser" Wilhelm II. It's also funny that you got a Finger on your page who was married to a woman named Ernst. My mother's name also was Ernst until she married my father. She and her family come from Emden, a town in Northern Germany at the coast of the North Sea.

Grettings to all Finger-families in the USA from Braunschweig, Germany

Vera Finger
---
October 6, 2004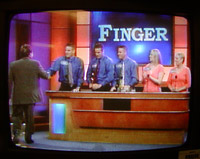 Although I don't know if this family is related to ours, it was interesting to seem them on
Family Feud
this week. The family consists of brothers Paul, Michael, and David, their sister Carey, and mom Darlene. They are from Los Angeles.
---
September 25, 2004
This interesting information has come to us from
Larry Boddy
:
Thought you might be interested in the appointment of Charles Thomas Fingar as Assistant Sec. of State. He has been in the State Dept. for some time as the highest non political diplomat. This is the first time (I think) that he took a political appointment.
---
August 27, 2004
John Vanko
sent us some updated and expanded information regarding the Finger Family from Bottendorf, Germany, titled
Fingers From Bottendorf To America
. While the Bottendorf line does not connect to our Palatinate line, still it may help a researcher, and is interesting to read. John also mentions that the Fingers from Bottendorf...
are no relation to Peter Finger the Pioneer of York County, Pennsylvania, and his many descendants throughout the Southern United States, nor the Fingers from Switzerland, nor the Fingers from Berlin.
John told us in an earlier message:
All the Baltimore Fingers were descended from Conrad Finger (1865-1930) of Bottendorf, near Frankfurt, in Hessen, Germany. Bottendorf is a small farming village that dates back at least to 750 A.D. There are Fingers in that region today. In Frankenberg there is a hardware store operated by one Conrad Finger. The Fingers of Bottendorf/Frankenberg can be found in church records back to the 1500's.

In Baltimore today, the Finger surname has died out.
---
August 15, 2004
The database has been updated. The main purpose of this update is to correct some errors regarding the
Decker
family line. The Fingers are related to the Deckers through the marriage of Tysje Decker and
Johannes Finger
, about 1778; and Emerich Decker who married Lea Vinger on 20 July 1788.
In July, we received a message from
Bonnie Decker Tippets
, letting us know there were some errors in our Decker information. Bonnie pointed me to a site concerning the Decker line maintained by
Michelle Boyd
. Then, I continued on with my research and found
the Decker Journey
, a site maintained by
Lonnie Decker
, with further clarifying information. I learned that the cause of the confusion is that there were 2
unrelated
Jan Deckers in Kingston, Ulster, New York at the same time (late 1600s). And to further confuse things, each had a son named Gerret, and one of the Gerrets married a daughter of the other Jan Decker! Lonnie's site mentions that it has been proven that the two Jan Deckers were not related by available records and by DNA testing.
I hope the data are all straightened out now and that the Deckers will forgive me for my mixed-up information.
---
June 3, 2004
Not too much to report, I've been keeping very busy. My wife and I just finished a trip to eastern Kentucky, where I helped her with research and helped her clean up a free public cemetery where her grandparents and great-grandparents are buried.
---
April 9, 2004
I took some pictures of my wife
Betty
this week, in the setting of her favorite place, her garden. One came out so nice that I just couldn't resist using it on the site.
---
April 4, 2004
A message came to us from
Aaron Finger
last week,
Hi. My name is Aaron Fingar, from Birmingham, AL. I don't know a lot about the history of my family and was wondering if you could get me headed in the right direction. My grandfather was Marvin Fingar. He moved the family here to Birmingham in the mid 60's I think. He had 6 children, Lee, Dale(my dad), Richard, Darryl, Lisa, Patty. I am not sure but I think they moved from the Rochester area. Any help you could give me would be extremely appreciated.
Sincerely,
Aaron Fingar
In checking into this, I found an SSDI (Social Security Death Index) listing for a Marvin Fingar, born 30 Mar 1929 and died in Nov 1985, and who last lived in Birmingham, Jefferson, Alabama. Based on that information it appears that Aaron's grandfather Marvin, is
Marvin Victor Fingar
. So citing Aaron as my source, I have added Marvin's children, and grandson Aaron, to our database, as listed in his message. I also replied to Aaron, pointing him to Marvin Victor to continue his research.
In further research I found Marvin on the 1930 Ghent, Columbia, New York census, age 1. He is living in the household of his great grandfather,
Jacob C. Fingar
, age 87, on Post Road. Also in the house is
Roscoe W. Fingar
, his father and
Herbert S. Fingar
, his grandfather. Four generations living together!
---
I spent some time today unscrambling a seeming conflict and I think it's solved. This is concerning a daughter of
Andrew Finger
of Benton, Yates, New York. Listed as his first daughter on the 1860 Benton census is Rachel E. Finger, age 1. On the 1870 Benton census she is listed as
Libbie R. Finger
, age 11. Therefore we assume that her middle name is Elizabeth, and in 1870 her first and middle names were reversed, since Libbie is a nickname for Elizabeth. Then, on the 1880 Benton census she appears as Elizabeth R., age 20.
In addition, in 1880 daughter-in-law Annie, listed as a widow, is living with Andrew and Rosetta, along with grandson
Samuel J. Finger
, age 1. Likely she and son Samuel moved in with her father-in-law after Samuel J. Finger [Sr.] died in 1879.
---
March 16, 2004
We heard from
David Fingar
today, who had this to say:
My name is David Walter Fingar. My father was Gordon David Fingar, his parents were Frederick Rodger Fingar (dob 09/09/1869) and Katherine Idyle Hayward (dob 3/25/1886). Frederick's parents were David and Mary Fingar of Penn Yann N.Y. Frederick built Crisscraft boats. Does anyone have any other information on my family? Do I have any relatives out there?
I replied that the Fingars in Penn Yan, Yates County are almost certain to be related to our line, and invited David to do some poking around on the website, in particular on our
Unknown Relationship
page. I also let him know that, as far as we know,
Jeremiah Finger
was the original Finger to leave Columbia county and move to Yates County, in 1816. There is an account of this migration on this excerpt from
History and Directory of Yates County
from Vol I, 1873. If anyone can find a connection, please send us a message.
---
February 4, 2004
This interesting message and request came in today from
Lucy Scharschu
:
My father recently gave me a bible that had been in his family for many years and in it I found a newspaper clipping on the marriage of Henry & Mary. [Henry Livingston Finger & Mary Jane Crawford, 1898]

You see my father never knew his parents and this bible is his only link. He is terminally ill and I am trying to get some information for him before he passes.

Please let me know if the name John E. Faulkner has ever come up in your searches. He was born around the Saugerties/Kingston area, possibly even across the river.

In the bible is the name Miss Lucy M. Legg. I also have a picture of a girl and on the back is the name Viola Maude Fleming made out to Aunt Lucy and dated May 30, 1928. The age of the girl is written down as being 5years 6 months.

Thank you,
Lucy Scharschu
I said we would try to help her if we can.
---
February 3, 2004
Dylan Tanner
sent us this (in part) message today:
I'm just writing to tell you that I have some information that I think you were missing:

John Tanner – b. March 05, 1787 d. January 29, 1869

He was born (and died) in Dutchess County, New York. Christina Finger was his second wife, too. I've got information on virtually all of his children, up to the present day (as I'm the one in my family who inherited all the genealogical info). If you'd be interested, feel free to send me an e-mail. Thank you again.
I mentioned to Dylan that we are always interested in hearing from Finger descendants, and in adding up-to-date information to the website. As his message said, John Tanner was married to
Christina Finger
---
February 1, 2004
The database has been updated.
Carol Fingar Clements
contacted us again with some further additions and corrections to the
Clyde L. Fingar
line. Turns out his middle name is, as we guessed,
Lewis
.
---
January 18, 2004
The database has been updated. Included this time are some changes and contributions that have come in during the past two weeks.
Ron Everist
sent me some family group sheets, and we have added to the Everist family. This family line is related to the Austin line, and thus to the Finger line because
Ellis Finger
married
Lydia Austin
.
We also heard from
Florence Willier
who sent additions and corrections to the Willier line.
Norman John Willier
was a great grandson of
Jacob Finger
and
Maria Shutts
.
A message came from
Carol Fingar Clements
, the daughter of
Clyde L. Fingar
. She was asking if we have any further information about Johannes Vinger. I tried to reply to her, but the message bounced, so there must be a problem with her e-mail account. I wanted to ask her to fill in some blanks in her line.
And lastly, I have added a page with the
comments
Hank Jones made in his newest book,
Even More Palatine Families
, about Johannes.
---
January 2, 2004
This interesting message came from
Cindy Finger
today:
My name is Cynthia (Darling) Finger. I married into the Finger family. BUT, my husband's parents were named William Edward Finger and Marjorie Grace Boddy. William would be 81 years old. His parents were from Buffalo, New York. Marjorie Grace would be about 85 years old. Her family came from Toronto, Canada. There is only one Boddy family member left. His name is Stuart and he is 91. William Finger was an only child. Grace and William and their 2 sons, Edward and Charles lived in Williamsville, New York.
I don't know if any of this pertains to your family. But I couldn't believe the same 2 names as are in our family. We live in Saratoga Springs, New York and Charles lives in Ithaca, New York. I would be interested to know if we somehow fit into your family. The odds are against us I guess, but I thought I would give you that information anyhow.
Cindy
The names Cindy refers to are, of course, Finger and the other is Boddy.
Robert Boddy
married
Lois Fingar
in 1947.
---
January 1, 2004
Here you can view the site's
stats for 2003
. Because we moved to a new server in July, that's where they begin.
---