November 11, 2014
I was intrigued by a recent news post on the website concerning the name Finger in Bohemia. In recent research in Bohemian records I found the following birth:
Johanna Finger, born 23rd of August 1860 in Nekmir house number 1, near Vseruby, north of Plzen, in Bohemia - today the Czech Republic but then part of the Hapsburg Empire. Her parents were Dominik Finger, innkeeper in Nekmir, and Franziska Michel. Dominik's mother was Appolonia Simoni of Mirotice, and Franziska's father was Anton Michel of Krasovice.

In western Bohemia I have found many German names, so it is not surprising to find the name Finger there just as it is in Germany.

Best regards,
John Vanko
---
August 4, 2014
We added another Finger line to the site, John Finger who was born in Bohemia and came to the U.S. in 1872.
---
February 16, 2014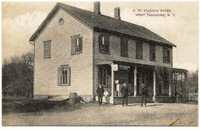 We were pleased to receive this postcard picture from Cheryl Morrison. This is the store of Harry William Fingar taken about 1910. On the 1910 census Harry is age 35 and listed as merchant, general store.
---
February 2, 2014
While most of the U.S. has been having cold and snowy weather, the weather in Sacramento has been unusually warm (in the 60s and 70s) but without the usual rain for this time of year. The governor has declared a drought, and we have been asked to cut back our water use by 20%.

The database has been updated today. Included in this update are the following:
---
January 6, 2014
We now enter another year of Finger Family news. I have changed the format of the NewsPage to match the recent changes to other documents.

We started off with some corrections from Lin Finger concerning her brother Donald, and his children. Because I have been extra busy lately, I have not updated the site with her corrections, but that will come soon...