November 30, 2008
The database has been updated today. This update now includes the family line of
Frederick Finger
(b. 1842), who came to New York from Switzerland in 1872.
Also a message came to use from
Therese Finger
:
There are Fingers in Malta (Europe) as well !
Well, that's all she said, but I have asked for more information, and any pictures. Malta is an island off the southern coast of Italy.
---
November 17, 2008
The database has been updated. It now includes the information we have on
Willam Finger
, below, and on the line of
Franz Finger
, born 1816.
I'm also pleased that
Susan Payne
gave us permission to post some pictures of her ancestors in the 'Southern' Finger family line. She also asked if I could give the credit to her grandmother, Mary Elizabeth Finger Payne, which I was happy to do.
We now have 1,416 persons in our database who are relatives of the Southern Finger Family line.
---
November 1, 2008
Although his line is not in our online database yet, I have added
William Finger
to the Family Lines page based on census records and his Civil War Pension File. William was born in 1835 in Bernburg, Germany, came to the U.S. in 1861, and served in the Union Army. You can read an account of his life in a letter he wrote to the Commissioner of Pensions.
---
October 25, 2008
The database has been updated. I have just returned from a trip to Washington, D.C. and the National Archives (NARA). While there, I obtained a number of Civil War Pension Files, and will be adding information to the site as time permits. Also, I had the opportunity to visit personally with
John Vanko
, the administrator of the Finger DNA project.
I was able to correct one error that was discovered.
August Finger
, born in 1846 and who came to Pennsylvania in 1879 was thought to have been the son of
Gottfried Finger
, born 1809. However, it turns out not to be true. Gottfried did have a son August, but it was discovered he was a different person.
---
September 9, 2008
I am happy to report that now the
Southern
Finger family is incorporated into our website. At present only about 1,000 members of that line are entered, but as time goes on, as my research goes on, and as others may contribute, we hope to expand that line.
Along with adding the above line, I also was able to add some pictures.
Thanks to Sandy Gianni for the Wilgus pictures and permission to use them.
---
August 19, 2008
The international scope of our family continues to grow. Today we heard from
Boyd Finger
from Canada:
About all I know of my family is Davis Edwin Finger was my father who was born in Welland Ontario, Canada, his father was Harold Finger and his father was Herman Finger who had a large lumber business in La Pas, Manitoba, Canada in the mid 1800s I was told. The family orginated in Germany.
Boyd asked for some help to get going in the right direction to research his family. I answered his message and gave him some tips, but if anyone can help, just send us a message and I'll forward it on to Boyd.
---
August 3, 2008
Things continue to be busy around here, but in "spare" time I have been researching other family lines. In particular, I have been doing research into the "Southern" family line, those who descend from Peter Finger (b. 1730) who settled in North Carolina. As of today, I have over 900 members of this family on file, and I hope to upload them to the site in the near future.
In other news, I also have begun to merge all the Finger families into one "Master" database. This has taken quite a bit of time, as I needed to be sure to preserve the original family while adding others to it. Also, to keep track of which family any person relates to, I have added a field of information to each person. You'll see that with each person is a new reference labeled
REFN:
The number after that tag is a Custom ID number that idendifies what family line a person relates to. The key to identifying family lines is on the Home Page.
Just for general interest, there is now a total of 908 Fingers on the site. Two hundred sixty seven are spelled Fingar and 641 are Finger.
---
May 20, 2008
I am slowly getting caught up from a busy month. A while back, Wade Finger referred us to a Johannes Finger (b.1786) who came to the U.S. in 1840 with his 6 children. I had a chance to begin some research and found they were living in Cleveland, Ohio around 1850-1860. You can read about them
here
and click on "Family Tree" to see what I have found so far.
---
May 4, 2008
I updated the database today. I have added a few names in the Shultis line who ties into the Finger family through
Hepsiba Shultis
(b.1819) who married John Finger (b.1816)
And, thanks to Deborah Cook, we have added some pictures:
Deborah Finger Cook
Her husband
Harold Cook
and daughter
Alyssa Cook
Also there is now a current picture of my son
Richard Finger
, taken last week, on April 24, 2008.
---
April 16, 2008
We have mixed news to report today.
1. Yesterday, April 15, my son
Richard Finger
was married for the first time at the age of 42. He currently lives in Ketchikan, Alaska.
2. Today, April 16, my daughter,
Diane Finger Hall
, died unexpectedly at the age of 40. She too, was living in Ketchikan, Alaska.
---
April 14, 2008
It's always rewarding to get a message like this. I have omitted the names for privacy, but here's the gist of the message:
...all 3 were placed for adoption, and I haven't had any contact with them until recently when you forwarded messages to me from [them]. Thanks to you, we will all be meeting sometime this summer for the first time in over 18 yrs!!
Ah, the Internet at its best. It is certainly my pleasure to help our family whenever I can. As a reminder, on the
Privacy Policy
page I state that I will not give out anyone's e-mail address, but I will forward a message to someone if I can.
---
April 13, 2008
The first DNA test results are in!
So far, only 3 family members have been tested and there is a need for other Finger lines to be represented.
Someone named 'Richard' sent this:
I am trying to find the family line of Anne Marie Finger, born around 18 March 1866 in Dijon, France. Her husband was Hormidas Tessier. Her father was Joseph Finger and her mother Anne Marie Grapin. It has been very hard for me to find any information about Joseph Finger or his wife. Could you tell me if you have some information about them?

Thank you
This family does not appear in any of the lines we are currently aware of, so if anyone can help, please get in touch.
---
March 29, 2008
I have been quite a bit behind in my work lately, but I was finally able to update the database and add a couple of pictures. Thanks to Deborah Cook we have pictures of
Virgil Finger
and
Barry Finger
. Also I added a picture of my sister
Pam
.
Larry Boddy called our attention to
Taj Finger
a basketball player. While we don't know how he's related, we find that he was born in Mt. Kisco, New York and that his parents are James and Alice Finger.
---
March 23, 2008
I have added a page that shows some Finger
coats of arms
along with some explanatory notes.
---
March 22, 2008
This came in this week from Claire Fingers:
Hello and a good morning to Fingers family in the USA. First I would like me introduce myself, my name is Klara "Claire" Fingers... (born Fingers..nach divorce again the name Finger angenommen) I live the family tree of my family in Bruehl Sew Cologne and am straight thereby to reconstruct... at present it can be reconstructed to approx. 1700. However tries, I still far in the time to decrease/go back... whether Samuel Finger also the ancestor of my family can I thus not yet with certainty be said, is however rather improbably. However one can never know... my Finger`s clan.... is in the Rhine country... mainly Cologne, Duesseldorf, Aachen, Bonn, Neuss.. to find... however also in Hessen, Rhine Pfalz... Saarland and Berlin thus wars for first loves. Greet of Bruehl to Finger family - Claire Fingers
Although there is some loss in the translation, we were happy to hear from her.
---
March 18, 2008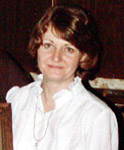 With sadness I must report that my sister,
Pamela Finger Wulff
lost her battle with cancer and fell asleep in death tonight at 6:45 pm. Born in May, 1950, she was just 57 years old.
She was alert and able to converse with family and friends just one day earlier. Besides her own children David and Stacey, Pam became a loving mother to her husband Al's children from a former marriage, Lesley, Steven, and Tommy.
Read her
Obit
.
---
February 17, 2008
Today I posted a most interesting account of the life of Peter Finger (b. c. 1724), the ancestor of the "Southern" Finger family. Peter came to the U.S. to Pennsylvania in 1749 and later moved to North Carolina. Our thanks to Wade Finger for his efforts in researching and putting together this interesting and informative document, and for his permission to let us post it on the Finger Family website. Read
Who Was Peter Finger?
---
February 16, 2008
In doing some research today, I found the
obituary
of
Frances Jean Finger Bassett
, the daughter of Clyde Miller Finger and Yorke Race Finger
---
February 13, 2008
· We have come across
this site
from Brazil with 309 Fingers listed. John Vanko reports:
I've been corresponding with some of the Brazilian Fingers. They've had family reunions down there with 700 people attending! There are at least 3 or 4 lines of Fingers - Catholic, Lutheran, and Jewish.
· Also, I have been on the phone with Danielle Fingar from Yates County, New York and I'll have a good amount of updated information available soon on that side of the family.
· Finally, I'm trying to figure out where this
George W. Finger
(b.1857 Texas) fits into the family. It's his bio, written in 1899. More to come...
---
February 8, 2008
John Vanko put together some interesting charts for us, here are:
Country of origin
of the 354 Finger immigrants through Ellis Island 1892-1924
State of residence
of the 1,261 Fingers on the 1880 census
Country of origin
of the 194 Fingers born in foreign countries on the 1880 census
---
January 30, 2008
The database was updated today. Thanks to Danielle Fingar, we have been able to add more of the descendants of
John Finger
(b 1811). There are still more members of that family line to be added, as I can find the time. And there is an important connection we are hoping to prove and add to that line as well.
Also I was able to add more pictures of our relatives:
Mary Fingar
Will Proper
, husband of Mary Fingar
A younger picture of
Myrtle Moore
, wife of Hugh Fingar
Carrie Allendorf
wife of Michael Harry Fingar
Albert Fingar
Helen Campbell
, wife of Albert Fingar
Lyman Finger
and his wife Mary Kilmer
and
Viola Rowland
, my maternal grandmother.
---
January 8, 2008
Information continues to come in to the Finger Family website!
Richard Heier
, who is related to this family, sent us this, and hopes someone can help him fill in some holes:
According to church baptismal entries which I personally copied several decades ago in Kirchschönbach, Kitzingen & Eibelstadt in Germany, CHRISTIAN FINGER married MARGARETA SCHMITT in 1774. All three villages are all located immediately south of Würzburg.

They had nine children:
Johann Georg Finger b.1775
Margaretha Dorothea Finger b.1776
Johannes Finger b.1777
Maria Appollonia Finger b.1779
Barttolomeus Finger b.1780
Georg Finger b.1782
Caspar Valentin Finger b.1786
Anna Maria Finger b.1789
Martin Finger b.1789
If anyone can help, you can reach Richard at
rfheier@att.net
Message and e-mail address posted by permission.
---
January 5, 2008
I have been able to add a picture in the Samuel Finger line, one of
Henrich Finger
(b. 1890) and his wife Ida.
---
January 1, 2008
The FingerFamily NewsPage is now entering its 10th year and with the new year we are looking forward to some exciting new things. John Vanko volunteered and is now the administrator of the Finger Family DNA Project. By means of this project we have the opportunity to discover if the various Finger family lines in the U.S. are related. As of this date 4 persons have signed on to participate.


In addition, on the website I have started to add genealogical data for other families. On the Known Finger Family Lines page are listed some of the families we have become aware of, and now we can click on "Family Tree" and find some of the members of those families. It's a small start, and I encourage all to contribute additional information that you might find is missing. Pictures of our relatives are always appreciated too.


Just as a reminder to all who contribute, as is stated on the Privacy Policy page, we won't post any birth information for living persons born less than 100 years ago.


Also, gradually I am making some technical changes, mostly the move from html to xhtml code for the web pages, but there shouldn't be any noticeable difference to our site visitors.


In looking over the stats for the Finger Family site, I see that during 2007 we got 266,341 hits, an average of 22,195 per month. A sampling from December, 2007 shows that the Family Lines and the NewsPage were the top 2 pages requested. Also of interest is that hits are coming from all over the world. In order from most to least our visitors came from: United States, Germany, Finland, Sweden, Russia, Australia, Canada, Poland, Netherlands, Norway, United Kingdom, Brazil, France, Italy, Turkey, Switzerland, Argentina, Mexico, Belgium, New Zealand, Ireland and Indonesia.


---