July 26, 2016
This picture of August Finger's family recently came to us, taken in 1915: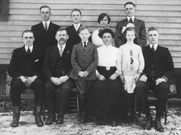 ---
June 26, 2016
We were pleased to receive this from Tom Finger: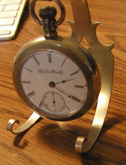 An entry by Ken Anderson from Chicago struck a coincidence with a fine watch in a very nice snap open case. This pictured watch belonged to my father Henry Finger 1886/1957 and has the same face only in a cheaper case. It was given to him by his grandfather Heinrich Finger 1836/1917 along with the history of the watch. At some time in New York the watch quit running and Heinrich couldn't afford to have it repaired. The jeweler told him it was a very good works and he would repair it at no cost if he could put the works in a less expensive case. Evidently Heinrich needed a working watch more than he needed a fancy snap open case. Heinrich only lived in New York from June 1857 until March of 1883 and possibly no connection of the 2 watches, but Ken Anderson might enjoy the story of the pictured watch. The watch still runs & sits on my computer desk.

- Tom Finger
---
April 2, 2016
Luiz Finger Maluf sent us this picture and comment: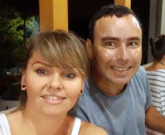 Hello Dwight, I'm 42 years old and I'm used to visit your website for more than a decade. I'm descendant of Johann Finger, who arrived in Brazil from Germany in 1827. Just glad of your work in the website. My mother was very proud of her Finger surname and she made a genealogical research of her origins, which resulted in Johann's reference. Everything else that I know about our origins is due to your website. I send you attached a foto of our cousin Roselaine and me in a Finger Cousins meeting that happened in January 2016, in Novo Hamburgo, South Brazil.
---
February 14, 2016
This came in today from Carol Stewart:
About a year ago a German website was created which contains many protestant church records in Germany. The church records for Willersdorf and neighboring towns are available for searching (about $22 a month). Here is a link to the site and another one which details more about the site if you are interested. I have found it to be very valuable and affordable.

https://www.archion.de/de/

https://ahnenfunde.wordpress.com/2015/03/19/archion-in-a-nutshell/
---
January 3, 2016
This website is now into its 18th year. While my research efforts have slowed a bit, we still continue to add interesting information and documentation to the site concerning Fingar and Finger families in the United States. To kick things off, yesterday I received new pictures of my grandchildren. It's interesting to note that grandson Landyn is the only descendant to continue this line of the Finger family.
| | |
| --- | --- |
| Elissa, age 6 | Landyn, age 4 |
Also, the database has had some updates.
---