December 26, 2012
The final update for this year is now online.
Also we have added another newspaper article.
William Finger
(b. 1956) was killed in a car crash at the young age of 19, read the
article
.
---
November 6, 2012
The site has been updated. This time we have added another line of Fingers,
Gustav Finger
who came to New York from Germany in 1882.
Also, see the article about the
Sinking of the Steamship Evening Star
. This ship sank off the coast of Georgia in a hurricane in 1866.
Robert Finger
was the chief engineer, and his brother
Lansing
was the First Assistant-Engineer.
---
October 21, 2012
The site has been updated. This update includes extensive information about the
Tears
family line. These are all descendants of
Hugh Thompson Tears
(b. 1816). This family has at least 3 ties into the Finger family:
Some descendants changed the spelling to
Thiers
.
We have added an article about
John Henry Fingar
(b. 1845), who while married,
ran off and eloped
with the wife of
James Sigler
.
And we added a picture and noted the passing of
Mary Hull
the wife of
Howard Fingar
.
---
September 21, 2012
An updated picture of my own grandchildren,
Landyn
, 6 months and
Elissa
, 2½
Finger
.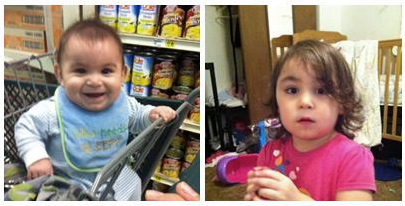 ---
August 19, 2012
The database has been updated. Included in this update is some corrected and additional information concerning
Philo Gifford
(1851-1900). Philo was married to
Emma Fingar
(1861-1918). Previously, we had him entered twice, once as a son and once as a husband. Those entries have been combined. Also, we found some information about how he died in a boating accident in 1900, just a short time after the census was taken.
---
July 24, 2012
The database has been updated. Included in this update is the addition of another line of Fingers.
Louis Finger
, was born in Austria in 1890 and came to New York in 1907. He married
Tessie
, and had 3 children. Of particular interest is that his son Milton, who was born in 1914, changed his name to
Bill
, and went on to become a co-creator, along with
Bob Kane
, of the Batman comic book series. However, he never received proper credit. Read his
biography
.
---
June 22, 2012
We have added an article concerning the
Descendants of Francis M. Finger
. Francis was born in Germany in 1814, came to the U.S. in 1853 and settled in Indiana. One descendant later moved to Missouri and his descendants remaind there.
---
June 2, 2012
We continue to do research and have been finding interesting things:
We added Webster Finger, who was born about 1842 in Hudson, New York and who died in 1892. In 1872 he married Kathryn "Kitty" Kinney. We know he didn't have any children but we don't know who his parents were. Click on his name to see his obituary, with a good amount of information.


Read the account of the marriage of Frederick B. Finger, born abt 1862. Bigamy and Elopement
---
May 12, 2012
We have been able to locate and add another family line to the website.
Martin Finger
, who was born in Germany abt. 1831, came to the U.S. in 1856. He served in the Civil War and received a pension for illness he contracted during the war. After the war he was found on census records with various occupations such as
Peddlar
,
Saloon Keeper
, and
Huckster
. His wife,
Ann Mary Wagner
died just before age 33 (1872) when she was told that a young boy had drowned while crossing a bridge. She assumed it was her son (it wasn't) and she staggered and fell. She died later that night.
---
April 2, 2012
In recent research an interesting fact showed up.
Philip Delos Finger
(born 1859) changed the
Finger
name to
Finzar
some time around 1894, when his son Earl was born. Subsequent descendants then continued the name Finzar, and we have listed many on the site. In particular, here is a newspaper clipping concerning Earl:
Earl Finzar of Syracuse, formerly of Geneva, has been promoted to district director of the New York State Board of Mediation of Syracuse area. He assumed his new duties on March 16. Mr. Finzar was business representative for the Geneva Federation of Labor here for nine years. He moved from Geneva in December, 1945, and was employed as labor mediator in Albany. He later organized the office in Buffalo, and in 1948 was transferred to Syracuse, where he has been for four years.
The above is from the
Geneva Daily Times
in April, 1952.
---
March 23, 2012
The newest member of the Finger family, my grandson, Landyn James Finger
---
February 24, 2012
We recently received this from
Norma Guttke Drews
and were able to add some details in her family line:
I want to thank you for the information you have posted. I have been searching for my great great grandfather's information and finally found it under Morris Landis, my grandmother's brother. My grandmother, Grace Landis Wade, mother Marjorie Wade Guttke. My name is Norma Guttke Drews. I was searching for David F Landis and had no idea the F was for Finger. My mother Marjorie passed away in 1984 here in California. I am an only child and am 80 years young. My father's name Elmer G Guttke. I now live in CA but originally from Illinois. We used to travel to Pontiac to visit Uncle Morris and Aunt Isis after my Grandmother Grace passed. Just wanted to tell you I can now follow some of my family line for my children.

Sincerely Norma Guttke Drews
David F. Landis
, Norma's great-grandfather, was born about 1850, the son of
Phebe Ann Finger
and
James Landis
.
---
February 12, 2012
As we continue to search through New York newspapers, we are finding more articles of interest. Currently there are 2 more:
The fire that destroyed A. Howard Fingar's chickens in 1943
The account of Joseph Finger who was beaten to death in 1951
---
January 30, 2012
The database has been updated, and we have added some pictures:
Also we have found a source of newspaper articles from New York, covering the years from about 1835 to the 1980s. There are many obituaries, wedding announcements, and items of interest. These have been transcribed rather than using the original newspaper image, so that they can be indexed. As an example, see the
marriage announcement
in the notes section.
We have added another line to the website,
Frank Finger
who came from Darmstadt, Germany to Buffalo, New York. Not much else is known.
---